Holiday Wreath Crafts With Noodles and Paper
With Christmas less than 2 weeks away, we're going to go over some fun decorating ideas that are great for the family! A holiday wreath is an easy craft that children of all ages will love making. They make for excellent decor inside or outside of the home. You can also give a holiday wreath as a gift to a friend or loved one that they will love and appreciate! The first wreath we will show you have to make is the bow tie noodle wreath
Here is what you need:
– Bow Tie noodles
– Green paint
– Green glitter
– Red ribbon
– Glue
Start by painting the bow tie noodles with green paint. While they are still wet, sprinkle the green glitter on top of them
After they dry, glue the noodes into a circle onto a base. Our white foam board and poster board make for the perfect tool. Cut a small piece of red ribbon, tie it into a bow, and add it to your holiday wreath!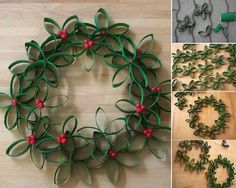 Here is another great handmade holiday wreath idea that is great for older kids!
First you need toilet paper rolls – about 20 of them. You will have to paint them entirely green. Once dry you will cut them into pieces as pictured below. You will need to use hot glue in the center to hold them together. You are going to put together two wreaths – one being larger than the other. Form them into a circle, and begin securing them with hot glue. You will glue the smaller wreath on top of the larger one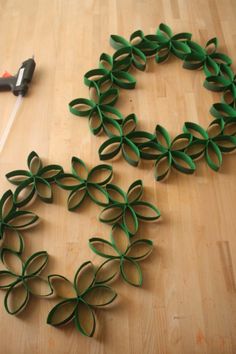 Then you are done with your holiday wreath! Add some red beads for a finishing touch to represent berries. Don't forget to visit www.iClicknPrint.com for all your holiday stationary customizing needs!
Please follow and like us: